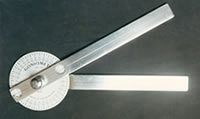 Product Description
A simple and accurate device to measure large joints range of motion.
* Construction: Aluminium sheet construction with 3mm thick two arms. Knurled knob adjusts arm tension or fully locks the arm.
* Scale: Four, 00 to 90°, Two, 00 to 180° & One, 00 to 360 degree scales in 5 degree increments to read Range of Motion.
* Moving Arm has two windos to read the range of motion.
* Unit measures about 100mm x 300mm. in length.
* Comes in a pouch for storage.