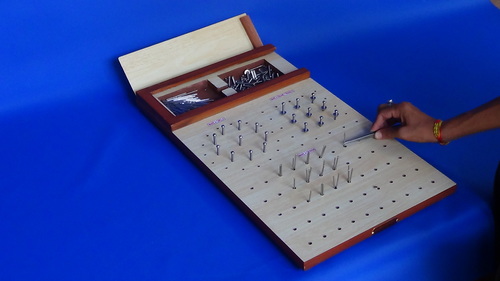 Product Description
Tests manipulative dexterity of right & left hand, individually & simultaneously. Measures dexterity in activities involving gross movements of fingers, hand & arm; also measures efficiency in activities Involving primarily "tip of the finger" dexterity.
Specialized test requires using Tweezers to place Pins in holes require precision, steadiness, and a high degree of eye-hand coordination.
* Laminated board has 100 holes to place in pegs & covered recess to store parts. ONE.
* Tweezer; Stainless steel - ONE.
* Plain Pins; Stainless steel - Hundred.
* Parts; Screws, Washers & Nuts - Fifty each.